The fourth quarter of 2018 continued with similar market behavior we saw in Q3 – inventory slightly exceeding demand and a balancing of the median sales price. In this quarterly report, we'll observe the three driving factors  – supply, cost and demand – and how they affect overall performance of the housing market.
Watch Drayton Saunders, President of Michael Saunders & Company, as he discusses the market changes between October and December 2018; in addition to what we can expect moving into 2019.
Key Trends:
Inventory levels are slowly rebounding creating a neutral market and more choice for buyers
Mortgage rates have decreased since the first half of the year
Market demand is equalizing after five years of exceptional growth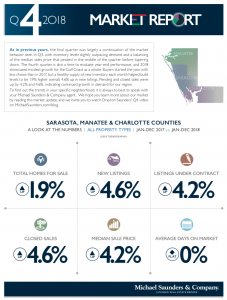 Inventory Levels
At the start of 2018, many buyers felt there weren't enough choices. Despite all the new construction every month, it wasn't until demand began to lessen in Q3 that we saw the numbers swing into the positive. As Drayton mentions, a large portion of the home buying decision is finding something that establishes an emotional connection, and if you can't find what you want, you end up not buying.

Lower Mortgage Rates
In 2018, buyers saw the gradual increase in rates throughout the first half of the year which likely triggered – fearing a higher rate would impact their ability to buy later on – or postponed buying altogether. Later in the year, however, we saw the opposite effect.
In the video below, the Wall Street Journal explains The Yield Curve and the relationship it has between the Federal Reserve and its investors. Want more information on current rates and how they affect your real estate plan? Contact me to discuss your real estate needs, and I'll connect you with a mortgage professional to explain the rates, devise a strategy for your needs, and get you pre-approved.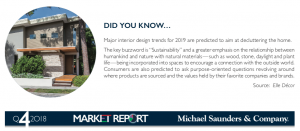 Final Thought
Looking ahead to 2019, all signs indicate a healthier market overall. While we got here due to a "slowing" of pace, the demand to live on the West Coast of Florida remains strong, with more people choosing the state year after year as their primary or secondary home.
Based on Samantha Emelock's MSCBlog – 1/30/19